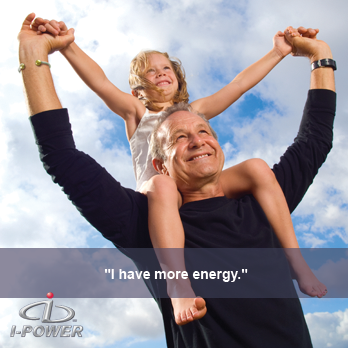 Learn more about the benefits of ions here.
I-POWER Health Products
The researchers at I-POWER Health Products have created an amazing wellness product. They have successfully combined two effective natural therapies; Ions and Infrared Molecules.
See what customers are saying about I-POWER Health Products:
"I have more energy"
"My sleep is improved"
"I'm much more relaxed throughout the day"
"My body just feels better"
Our unique ionized technology can be identified by the red circular areas underneath the terminals. This exclusive process of ionization is more effective than other brands that simply use a plating method.
These stylish bangles are available in four sizes: small, medium, large and extra large.
Find the size that feels the most comfortable and slide the bracelet onto your wrist with the terminals facing either up or down. It's that easy! We recommend that you enjoy your I-POWER product for as long as you like. For increased benefits and longer effects, please consult your doctor or physician and follow a healthy and balanced diet.
Experience I-POWER today and feel the difference!
I-POWER Health Products are only available through authorized retailers.